Jomo Kenyatta International Airport
Jomo Kenyatta International Airport (JKIA) is the largest airport in Kenya. Its international code (IATA Code) is NBO. The airport boasts of over 40 passenger airlines and 25 cargo airlines, has scheduled flights to destinations in over 50 countries. It nearly served 7 millions passengers in 2015, making it the ninth-busiest airport in Africa by total passengers, the Kenya's largest aviation facility and the busiest airport in East Africa.
Click here to know more about the airport
Our stores at the airport
The capital of Kenya is one of the most visited cities on the African continent, and therefore, the Nairobi airport (Jomo Kenyatta) is one of the main gateways to the city. The airport has a Duty Free store for travelers, a boutique where passengers from all over the world already buy top brand products at very competitive prices thanks to the tax exemption with which our airport stores operate.
At Nairobi airport you will have a Duty Free store available with extended opening hours so as to offer the best comfort and convenience, as so many passengers count on it to acquire top brand products in sections such as food and gastronomy. Get beauty items, such as perfumery and cosmetics, or liquor at tax free prices.
For those passengers who wish to take home a gift from a unique place, we suggest a visit to the Taste of Kenya store section. In the food section, you will find a magnificent selection of local products that are a great option to take home as a special souvenir from Nairobi. Buying tax free products with total comfort and ease is possible thanks to the exclusive Duty Free Reserve & Collect online shopping service. Browse the online catalog that you will find on this website and discover the exclusive offers of our airport stores.
on't miss the opportunity to save time and money by making your purchases at the airport. Duty Free offers you great value for your money in the best brands on the market. We'll see you soon!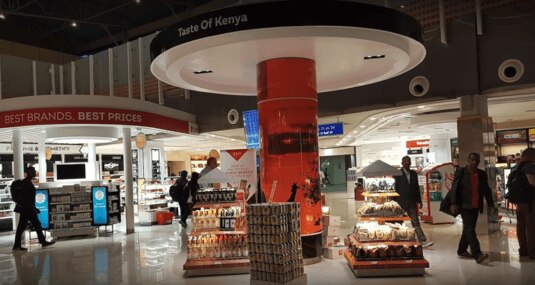 Main Shop
Location

PO Box 19092-00501 JKIA - Nairobi - Kenya

Shop Categories

Food, Perfumes & Cosmetics, Tobacco, Alcohol, Fashion, Watches, Jewelry, Electronics and Souvenirs

Phone Number

+254 20 780 0520 / +254 20 780 0521

Email

contactus@dufry.com